The SM&SF Clubhouse
1010 Sandy Hollow Road / Rockford, Illinois
The main floor of the Clubhouse has a seating capacity for 125 people with its own separate bar and a 900-square-foot dance floor. This area can be curtained for privacy from the upper, members-only bar. A separate side entrance offers a private entry for your event. A large parking area is located on the same side. This is a beautiful, contemporary setting that is ideal for wedding receptions, bowling banquets, private parties or holiday office parties.
We offer an in-house, catering service with kitchen facilities on the premises. The chef will customize your menu to your preferences. This area can also be combined with our Banquet Room described below to expand the capacity of your event.
The SM&SF Banquet Room
This room offers seating for up to 120 people. It can be separated and shuttered to offer complete privacy for your event. A separate private bar is also offered for your party. It's ideal for showers, birthday parties, retirements, or any intimate occasion of your choosing. This area can be opened up to be combined with the main clubhouse room. As above, this also offers a private, side entrance with parking.
The SM&SF Club Park
7625 Kishwaukee Road / Rockford, Illinois
The club owns 160 acres, located at 7625 Kishwaukee Road (about 3.5 miles south of the UPS building at Greater Chicago/Rockford International Airport). Drive down the landscaped, well-maintained lane until you arrive at the 60-acre park overlooking the scenic Rock River. The club is very proud of this park and has a volunteer crew that maintains its beauty.
It offers a lodge (75 capacity) with a full bar and a wood burning fireplace. This is connected to a separate kitchen by a covered pavilion with a seating capacity for 100 people. A fenced-in, children's play area is located next to the pavilion. This is ideal for factory/office picnics, family reunions, graduation parties, class reunions, weddings or any large group, summer event. Parking is available along the lane and open areas. Cost for rental varies by size of group (up to 500 people).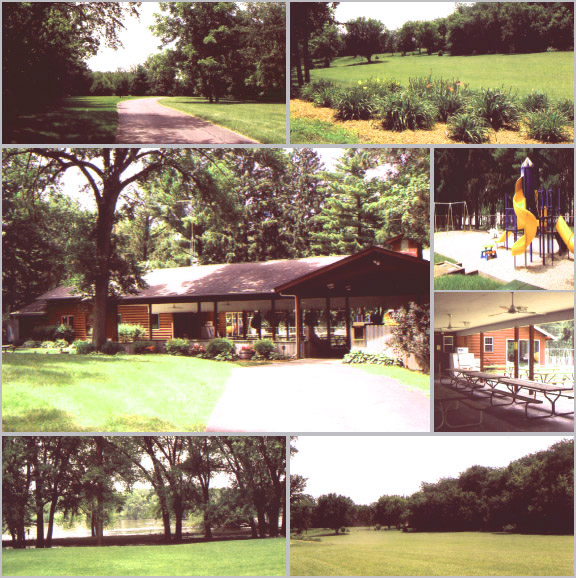 Call 815-399-9471 to book your event!

1010 Sandy Hollow Road
Rockford, IL 61109
815-399-9471
©2019 The SM&SF Club. All rights reserved.