The SM&SF Club was established in 1898 as the Swedish Music & Sick Fraternity. At that time, Swedish singing societies were popular in the Midwest, with singing competitions being held throughout the year. The early Swedish immigrants were also a strong ethnic group that took care of each other, both physically and financially, during times of illness and death.
Today, the SM&SF Club is a non-profit social club with membership that exceeds 600 members. It still maintains an old tradition of caring for the community by its annual "Kick-In for Cancer" fundraisers that have raised over $30,000 a year to benefit the local hospital's oncology departments and our local hospice care providers.

Hi All,
Hope everyone is staying safe and healthy while still participating in and enjoying club activities. With the help of many members, volunteers, and workers we have added another successful Pig Roast to our bragging rights. Thank you to everyone—including those who willingly jumped in on an "as-needed" basis. Great job to all.
With October comes hunting season. Hunters, please keep in mind that camping is still open, and golf carts are being used. Remember safety first and do not hunt near the camping/golf cart traffic. Please be aware of your surroundings.
Be sure to keep an eye on calendar events—we have a chili camping/cook-off event planned, and Trunk–or–Treat. A lot of great things going on, and still plenty of spots to volunteer.
Be safe and have a great month.
Boyce Wallin, President

Click here to download and print this month's calendar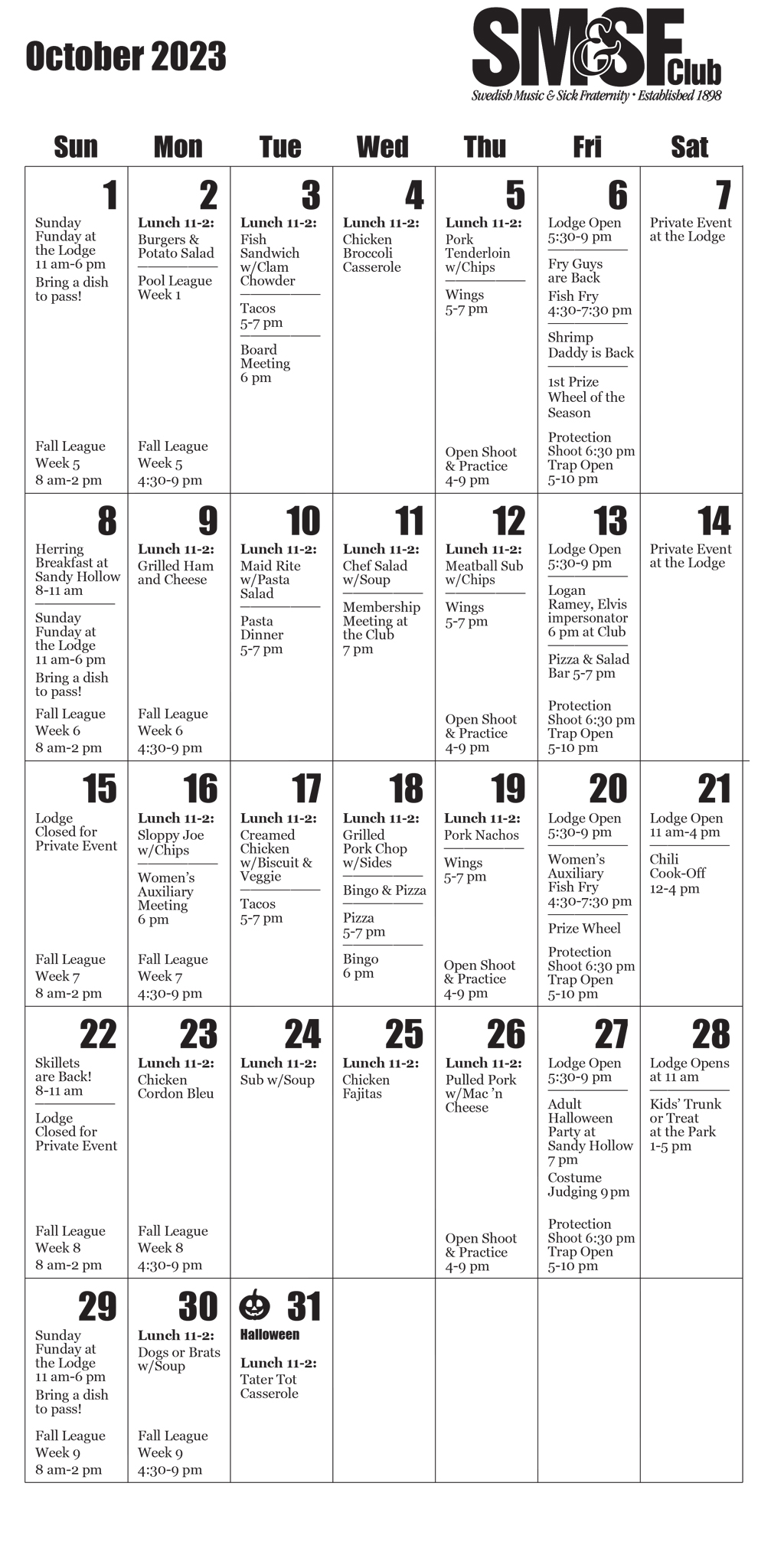 1010 Sandy Hollow Road
Rockford, IL 61109
815-399-9471
©2020 The SM&SF Club. All rights reserved.